SiteGround was found in 2004 and since then it is the favorite hosting provider of many people around the globe. SiteGround is also officially recommended by WordPress.org
Overall, they have a fast, knowledgaeable, friendly and reliable support. All plans are packed with a CDN, SSL and email accounts.
The Signup Process:
1. Choose a plan
It's easy to find out, which plan is the best for you! The most important factors are your expected monthly visitors and your number of websites that you want to create.
If you want to create 1 Website, than you can safely go with the StartUp plan. if you want to create more than 1 Website, you need to choose GrowBig.
You shouldn't care too much, about special features or laoding speed. When I started out, I thought that a better plan also delivers better loading speed, but in fact they're all equally fast and you don't need to care about it. By the way, loading speed is more a factor of the website and not so much of the host.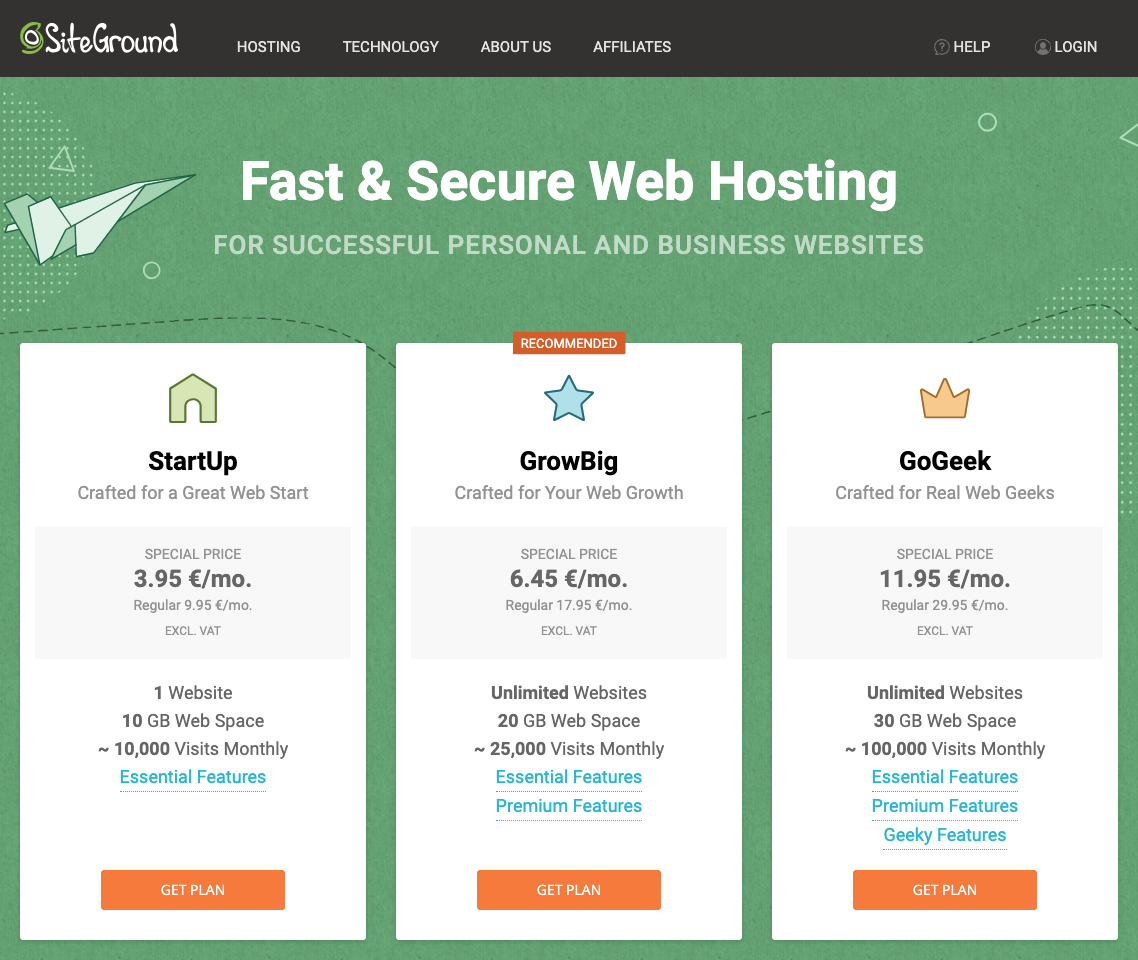 2. Select a domain
This part is pretty much straight forward. You either choose a new domain, or you can a transfer a domain that you already own.
In case you choose a new domain, it will immediately tell you if it's available and you can just add it to your order. Most domain cost around 10-12$.
In case you want to transfer your own domain, they will take care of all the process for you. It's totally simple and you can get it done real quick.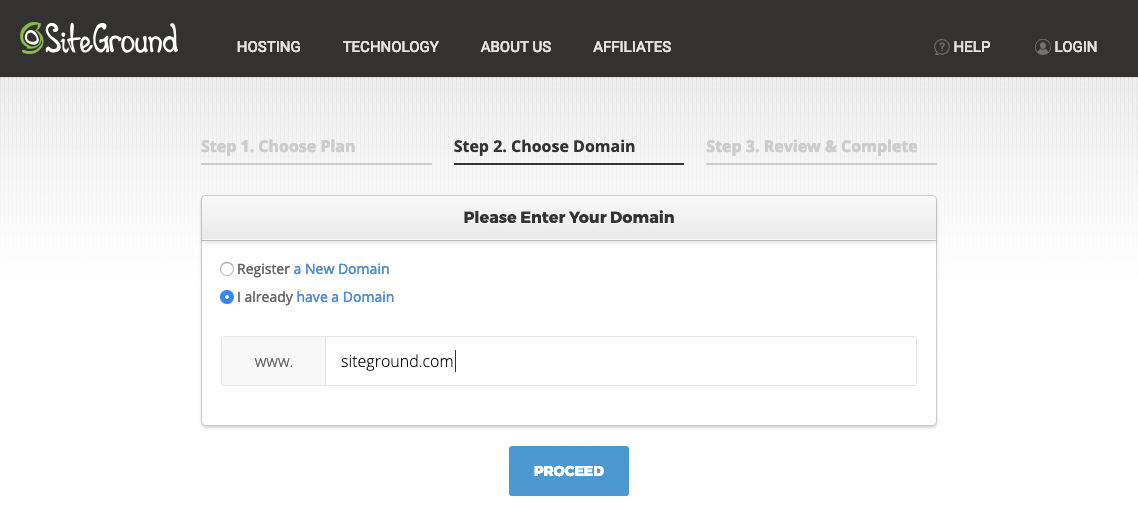 3. Easily checkout and go online
What's really awesome about SiteGround is, that they will transfer an old website of yours for free. So if you think about migrating your old website, you can just sit down and relax while they do the advanced technical stuff for you.
They will only show credit card as a payment method, but in fact you can also pay via paypal, if you just contact their 24/7 chat support. They will immediately provide you with a paypal checkout.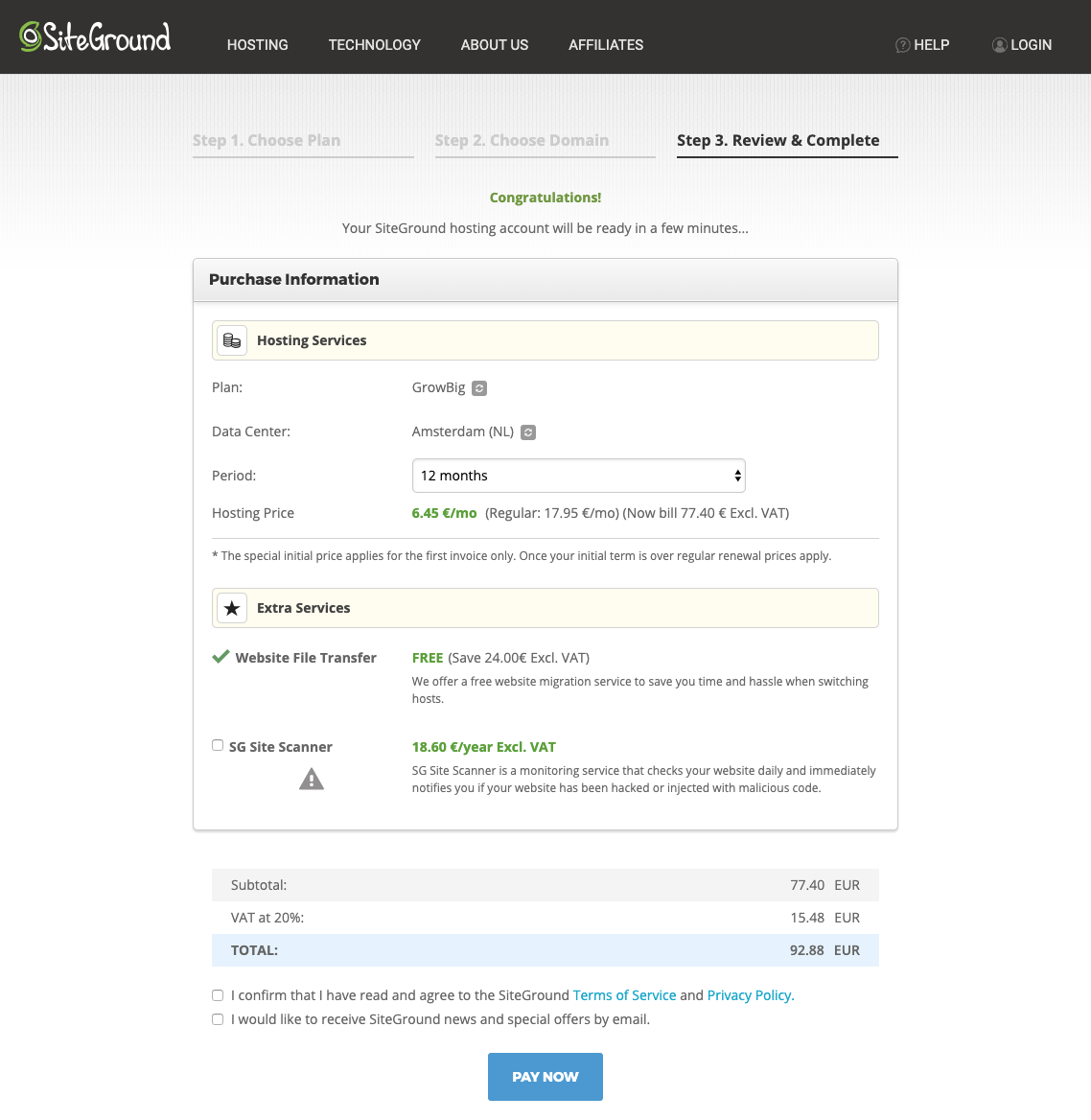 Support
We've been using siteground for many years and always had an outstanding experience with their support
They know what they are taling about and they can always help you out. When we started with wordpress the first time, we had so little experience but they've always been here to help, when we ran into issues.
They're extremely friendly, helpful and they always reply fast, even if there are some advanced technical problems
Site Migration:
Many Hosting providers offer site migration only as paid service and some others offer a diy migration, which often leads to more of a burden to the customer
They developed their own in-house Siteground Migrator Plugin for Wordpress. You can simply install the plugin on the old website and the new website and then hit transfer. Done. If you need help along the way, they offer 1 site migration for free, when you first sign up for one of their plans
Free SSL and CDN(Conten Delivery Network)
SSL
SSL means, that all requests on your page are encoeded and therefore protected by so called man-in-the-middle attacks.
With SSL enabled, hackers won't be able to steal sensitive data, entered by users on your website. SSL has become a standard security practice, since google chrome actively started warning people about sites without ssl.
Today SSL is mandatory, but still there are many websites without it
CDN
a content delivery network will store all your assets (images, and scripts and files that your site needs to load) in cache. Then they save the cache on many different locations all around the globe.
As soon as someones tries too load your site, they will check the nearest location and then devliver the cache blazing fast.
So basically, a CDN will ensure that your site loades blazing fast, all arounf the globe, no matter where your site is hostet. It's included for free! :)
30 Day Money Back Guarantee
Another thing we love about siteground is the fact, that they will refund your money, if, for some reaspon you are not satisfied with their service. This is the last thing, which makes it a no-brainer. You can simply test it out. If you're not satisfied, there's nothing to lose.
What other users say about SiteGround
Do we recommend Siteground?
We love working with SiteGround, because of their awesome support, their easy-to-use interface, their integration of free CDN, their reliabilty and simply because you always get help, when you run into issues.
So, do we recommend SiteGround? Yes! So, get your website online today :)