Edit general settings
Time to customize the Blog. Go to the left top corner and hover your mouse over "My WordPress", then click "Dashboard". This is just another way to access your WordPress dashboard. The first way, we discussed before was to add "/wp-admin" to your page URL.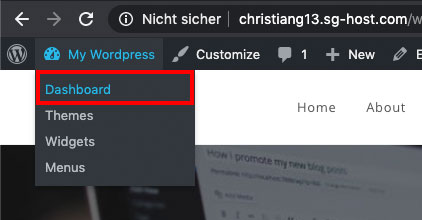 Now that you're inside the dashboard, hover over "Settings" and then click "General"
Here you can set up just a few, but important settings for your site:
For "Site Title" add the name of your blog, so if your blog is about drum tuning, you might want to call it "Drum Tuning Expert Tips"
For "Tagline" add a short line about your blog. Something like "Receive Drum Tuning Tips every week."
Click "Save"